UTA Night at The Rangers - SOLD OUT
We have sold out of the UTA Student Discounted Tickets, but there are additional tickets available for the event through the Texas Rangers. Purchase tickets here.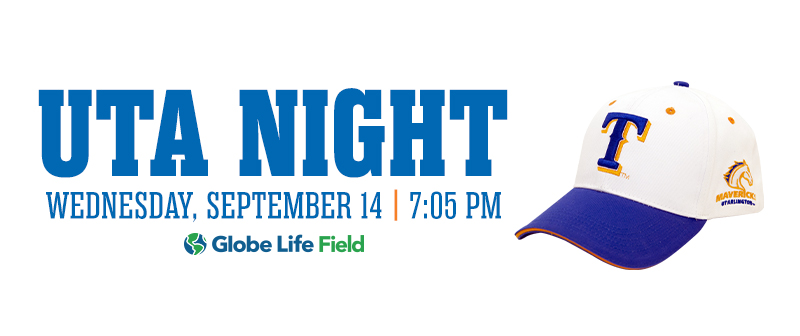 UTA Night at the Rangers
September 14, 2022 7:05 pm
UTA Students: $8
Tickets will be available for pickup beginning Friday, September 2 at 10 am at the College Park Center box office. Tickets MUST be picked up by Tuesday, September 13 at noon.
If a group is purchasing tickets separately, but wants to sit together, please have everyone in the group come together to the box office to pick up your tickets. There will be NO exchanges once tickets have been issued.


In order to verify your status as a UTA student, you will need to log into your UTATickets.com account with your UTA email address before purchasing tickets. 
If you have purchased tickets at utatickets.com before using your UTA email, please log in with that account. If this is your first time purchasing tickets at utatickets.com, please select "I am a new user" and create an account with your UTA email address.
Please select the event(s) below you are interested in to log in and get tickets.
UTA Night at the Rangers - Tickets are sold out.
UTA Faculty/Staff and Alumni: Please visit www.texasrangers.com/udays to purchase tickets.